It's ironic that one of the world's most expensive privately owned paintings is, in most cases, worth more than its owner's mansion. Now, that's something to think about.
This is the collection of the highest known prices ever paid for paintings sold through auctions and private sales. Obviously these prices don't compare with the world's most famous paintings, especially the older works done before 1800, which are generally owned by museums, rarely sold and, as such, are quite literally priceless. For example, Mona Lisa was estimated to be worth approximately $670 million in 2006.
10. The Scream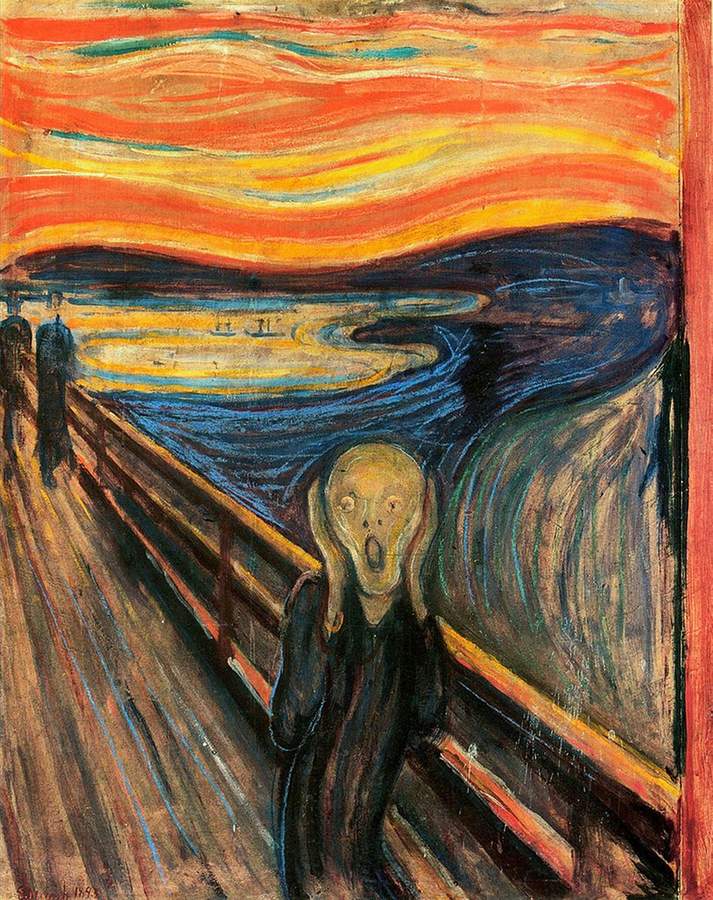 Artist: Edvard Munch
Date Painted: 1895
Type: Oil, tempera, and pastel on cardboard
Sold To: Leon Black
Price (Date of Sale): $119.9 million (May 2, 2012)
Adjusted Price Today: $122 million
Originally called "The Scream of Nature", this painting is one of four versions of The Scream made by Munch between 1893 and 1910. Munch, a Norwegian, describes how he was inspired to create this masterpiece: "One evening I was walking along a path, the city was on one side and the fjord below. I felt tired and ill. I stopped and looked out over the fjord—the sun was setting, and the clouds turning blood red. I sensed a scream passing through nature; it seemed to me that I heard the scream. I painted this picture, painted the clouds as actual blood. The color shrieked. This became "The Scream". The Scream has been the target of several high-profile art thefts. In 1994, the version in the National Gallery was stolen. It was recovered several months later. In 2004, both The Scream and Madonna were stolen from the Munch Museum, and were both recovered two years later.
9. Garçon à la pipe
Artist: Pablo Picasso
Date Painted: 1905
Type: Oil on Canvas
Sold To: Barilla Group
Price (Date of Sale): $104.2 million (May 4, 2004)
Adjusted Price Today: $129 million
Garçon à la Pipe (English: Boy with a Pipe) is a painting by Pablo Picasso. It was painted in 1905 when Picasso was 24 years old, during his Rose Period, soon after he settled in the Montmartre section of Paris, France. The oil on canvas painting depicts a Parisian boy holding a pipe in his left hand and wearing a garland or wreath of flowers.
Early preparations of this work involved positioning the boy in all types of poses that involved standing, sitting or leaning against the wall. After much repositioning of the model, Picasso decided to go with the boy sitting down. Next was how to position the arm, where much time was also spent on the height and angle. Early works do not show any objects other than a pipe being used.
Although Picasso started to paint this picture, he gave it a rest period for about a month. During this time, Picasso decided to finish it off by placing a garland of flowers on the boy's head.
8. Bal du moulin de la Galette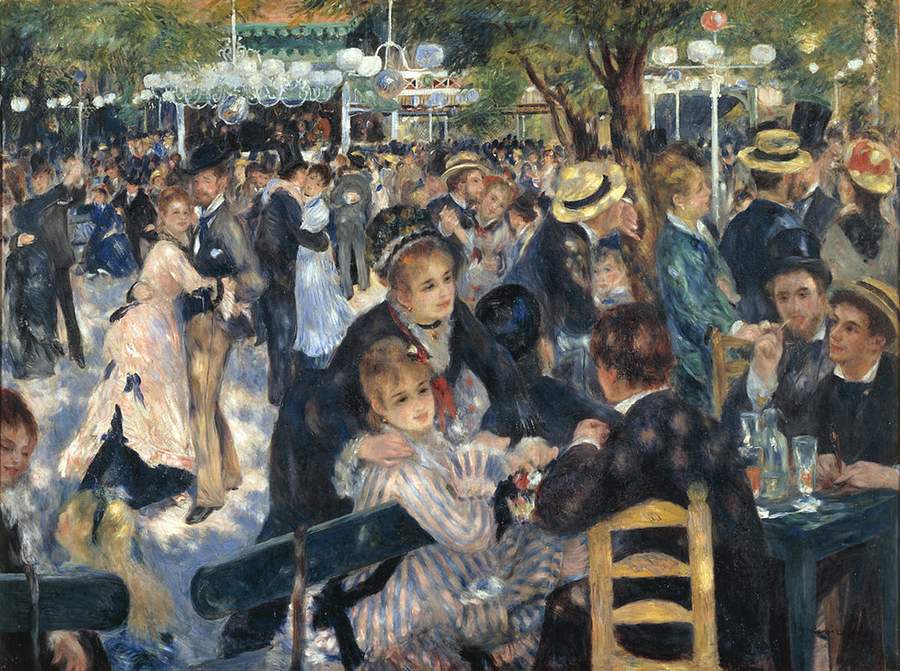 Artist: Pierre-Auguste Renoir
Date Painted: 1876
Type: Oil on Canvas
Sold To: Ryoei Saito
Price (Date of Sale): $78.1 million (May 17, 1990)
Adjusted Price Today: $141 million
Bal du moulin de la Galette (also known as Dance at Le moulin de la Galette) is an 1876 painting by French artist Pierre-Auguste Renoir. It is housed at the Musée d'Orsay in Paris and is one of Impressionism's most celebrated masterpieces. The painting depicts a typical Sunday afternoon at Moulin de la Galette in the district of Montmartre in Paris. In the late 19th century, working class Parisians would dress up and spend time there dancing, drinking, and eating galettes into the evening.
Like other works of Renoir's early maturity, Bal du moulin de la Galette is a typically Impressionist snapshot of real life. It shows a richness of form, a fluidity of brush stroke, and a flickering light.
From 1879 to 1894 the painting was in the collection of the French painter Gustave Caillebotte; when he died it became the property of the French Republic as payment for death duties. From 1896 to 1929 the painting hung in the Musée du Luxembourg in Paris. From 1929 it hung in the Musée du Louvre until it was transferred to the Musée d'Orsay in 1986.
7. Three Studies of Lucian Freud
Artist: Francis Bacon
Date Painted: 1969
Type: Oil on canvas
Sold to: Elaine Wynn, ex-wife of Steve Wynn
Price (Date of Sale): $142.4 million (November 12, 2013)
Adjusted Price: $142.4 million
The Three Studies of Lucian Freud is a 1969 oil-on-canvas triptych by the Irish-born British painter Francis Bacon, depicting artist Lucian Freud. It was sold in November 2013 for $142.4 million—the highest price attained at auction for a work of art when not factoring in inflation.
Bacon and Freud were friends and artistic rivals. Introduced in 1945 by artist Graham Sutherland, they swiftly became close friends who met frequently. The two artists painted each other several times, starting in 1951, when Freud first sat for Bacon.
It was among Bacon's favorites of his works
6. Portrait of Dr. Gachet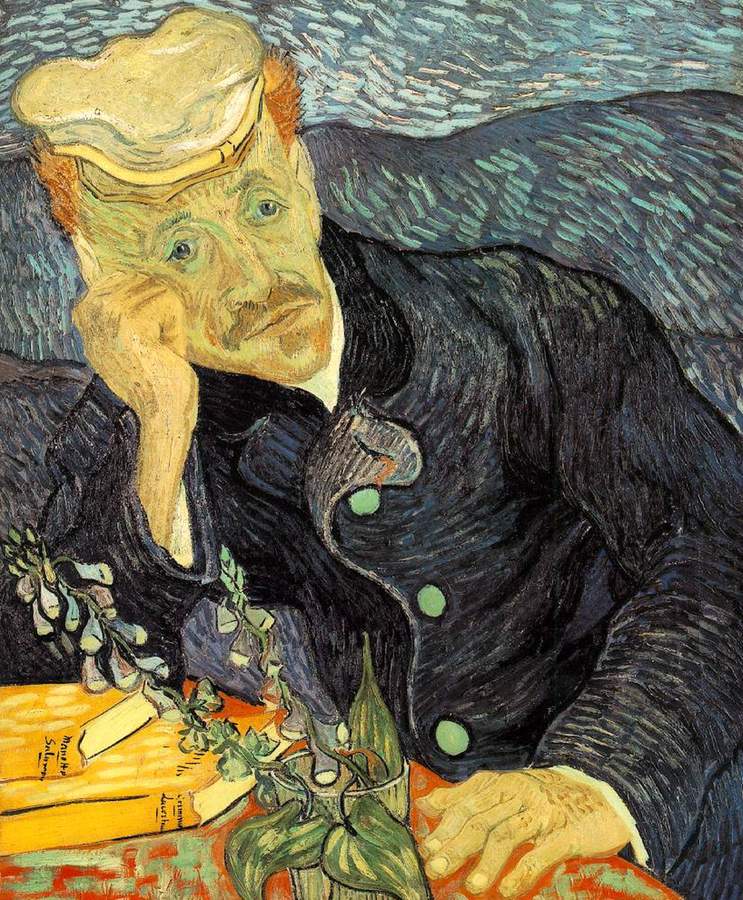 Artist: Vincent Van Gogh
Date Painted: 1890
Type: Oil on Canvas
Sold To: Ryoei Saito
Price (Date of Sale): $82.5 million (May 15, 1990)
Adjusted Price Today: $149 million
This painting depicts Dr. Paul Gachet, who took care of Van Gogh during the final months of his life. There are two authenticated versions of the portrait, both painted in June 1890 at Auvers. Both show Doctor Gachet sitting at a table and leaning his head on his right arm, but they are easily differentiated in color and style. Ryoei Saito, the honorary chairman of Daishowa Paper Manufacturing Co, bought the painting – he later said he would consider giving the painting to the Japanese government or a museum, no information has been made public about the exact location and ownership of the portrait since his death in 1996. Reports in 2007 have claimed the painting was sold a decade earlier to the Austrian-born investment fund manager Wolfgang Flöttl. Flöttl, in turn, had reportedly been forced by financial reversals to sell the painting to parties as yet unknown
5. Portrait of Adele Bloch-Bauer I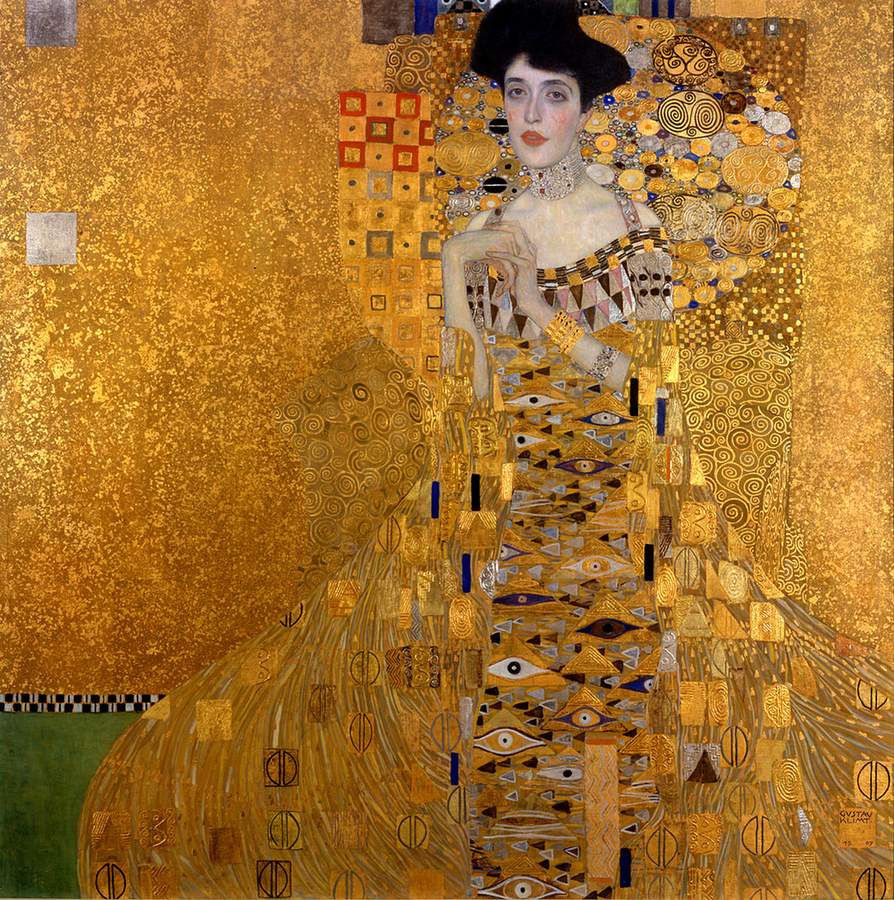 Artist: Gustav Klimt
Date Painted: 1907
Type: Oil, silver and gold on canvas
Sold To: Ronald Lauder, Neue Galerie
Price (Date of Sale): $135 million (June 18, 2006)
Adjusted Price Today: $155 million
Klimt took three years to complete the painting. It measures 54″ x 54″ [138 x 138 cm] and is made of oil and gold on canvas, showing elaborate and complex ornamentation as seen in the Jugendstil style. This painting has had a convoluted history. It was painted in Vienna and commissioned by Ferdinand Bloch-Bauer. Adele Bloch-Bauer (Ferdinand's wife), in her will, asked her husband to donate the Klimt paintings to the Austrian State Gallery upon his death. She died in 1925 from meningitis. When the Nazis took over Austria, her widowed husband had to flee to Switzerland. His property, including the Klimt paintings, was confiscated. In his 1945 testament, Bloch-Bauer designated his nephew and nieces, including Maria Altmann, as the inheritors of his estate. Today, the painting is the centerpiece of Lauder's collection, Neue Galerie in New York.
4. Le Rêve (French, "The Dream")
Artist: Pablo Picasso
Date Painted: 1932
Art Style: Oil Painting
Sold To: Steven A. Cohen
Price (Date of Sale): $155 million (March 26, 2013)
Adjusted Price Today: $156 million
Le Rêve (French, "The Dream") is a 1932 oil painting (130 × 97 cm) by Pablo Picasso, then 50 years old, portraying his 22-year-old mistress Marie-Thérèse Walter. It is said to have been painted in one afternoon, on 24 January 1932. The erotic content of the painting has been noted repeatedly, with critics pointing out that Picasso painted an erect penis, presumably symbolizing his own, in the upturned face of his model. While Wynn was showing the painting to his friends, apparently about to reveal the now still officially undisclosed previous owner (see above), he put his elbow through the canvas, puncturing it in the left forearm of the figure and creating a six-inch tear. Ephron offered as an explanation that Wynn uses wild gestures while speaking and has retinitis pigmentosa, which affects his peripheral vision. Later, Wynn said that he took the event as a sign not to sell the painting. After a $90,000 repair, the painting was re-valued at $85 million, however Cohen still bought it in 2013 for $155 million.
3. Woman III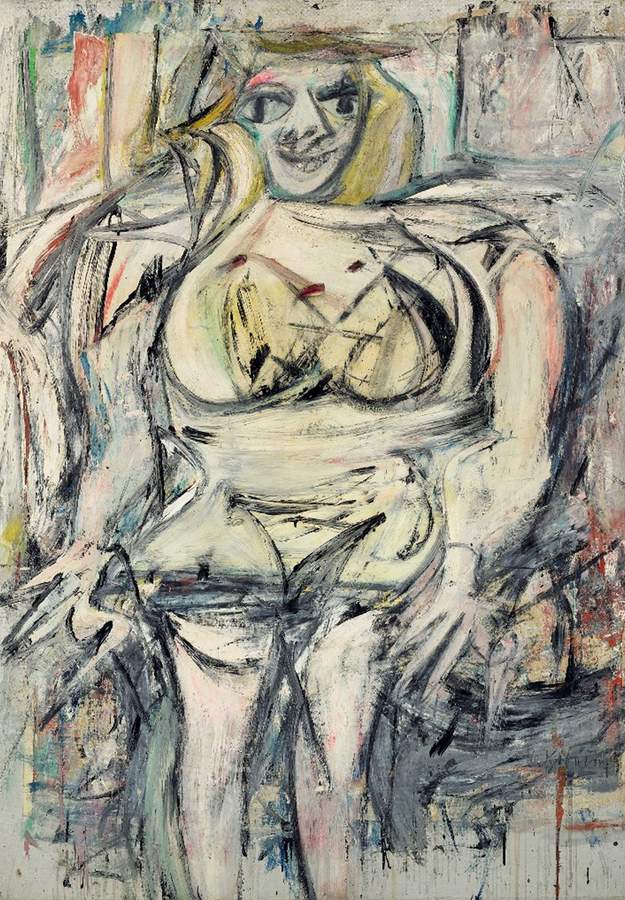 Artist: Willem de Kooning
Date Painted: 1953
Art Style: Oil on Canvas
Sold To: Steven A. Cohen
Price (Date of Sale): $137.5 million (November 18, 2006)
Adjusted Price Today: $160 million
Woman III is a painting by abstract expressionist painter Willem de Kooning. Woman III is one of a series of six paintings by de Kooning done between 1951 and 1953 in which the central theme was a woman. It measures 68 by 48 1⁄2 inches (1.73 by 1.23 m) and was completed in 1953.
From late 70s to 1994 this painting was part of Tehran Museum of Contemporary Art collection, but after the revolution in 1979, this painting could not be shown because of strict rules set by the government about the visual arts and what they depict. Finally, in 1994 it was quietly traded by Thomas Ammann Fine Art to David Geffen for the remainder of the 16th century Persian manuscript, the Tahmasbi Shahnameh.
In November 2006, the painting was sold by Geffen to billionaire Steven A. Cohen for $137.5 million, making it the third most expensive painting ever sold.
2. "Number 5, 1948"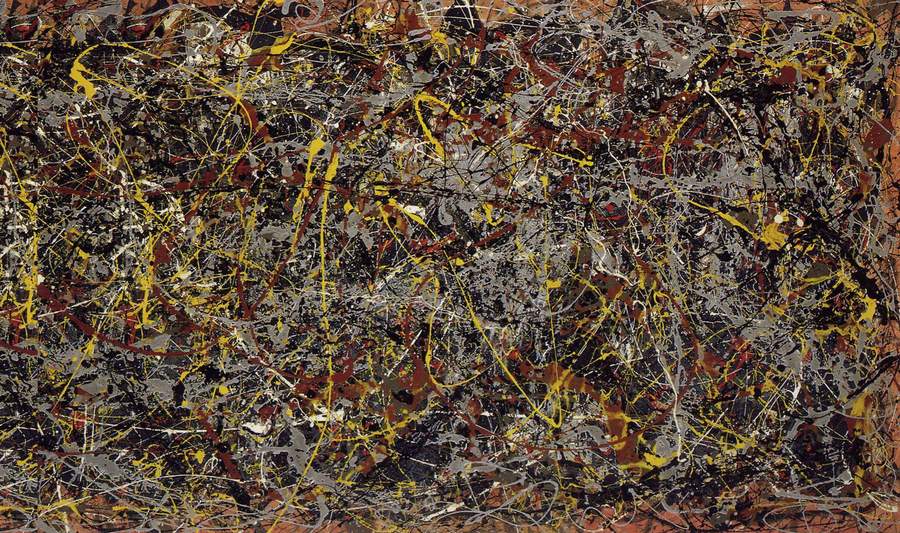 Artist: Jackson Pollock
Date Painted: 1948
Art Style: Oil on Canvas
Sold To: David Martinez
Price (Date of Sale): $140 million (November 2, 2006)
Adjusted Price Today: $162 million
The painting was done on an 8 feet x 4 feet sheet of fiberboard, with thick amounts of brown and yellow paint drizzled on top of it, forming a nest-like appearance. It is speculated that David Geffen (the previous owner – founder of Geffen Records and co-founder of Dreamworks SKG) sold the painting, along with two others, to raise enough funds to bid for the Los Angeles Times. The Stone Roses' song "Going Down", B-side of "Made of Stone", makes a comic reference to the painting: "Passion looks like a painting, Jackson Pollock's No. 5". The record's cover was a painting by guitarist John Squire in a style similar to that of Jackson Pollock.
1. The Card Players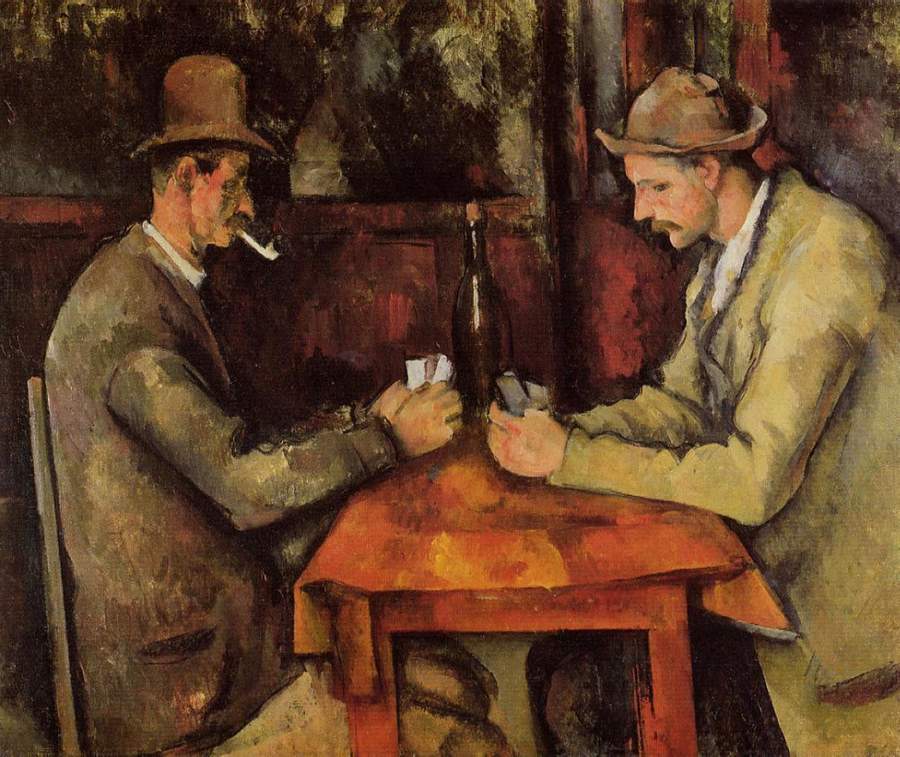 Artist: Paul Cézanne
Date Painted: 1892/93
Art Style: Oil on Canvas
Sold To: Royal Family of Qatar
Price (Date of Sale): $259-$320 million (April 2011)
Adjusted Price Today: $268.1 million
Although the exact price of The Card Players is not known, it is estimated to have been sold for a price ranging from $259 million to $320 million. The Card Players is a series of oil paintings by the French Post-Impressionist artist Paul Cézanne. Painted during Cézanne's final period in the early 1890s, there are five paintings in the series. The Royal Family of Qatar didn't buy the series – they bought just that one painting for about 259 million. The series is considered by critics to be a cornerstone of Cézanne's art during the early-to-mid 1890s period. The models for the paintings were local farmhands, some of whom worked on the Cézanne family estate, the Jas de Bouffan. Each scene is depicted as one of quiet, still concentration; the men look down at their cards rather than at each other, with the cards being perhaps their sole means of communication outside of work.